| | |
| --- | --- |
| "What makes Alice Wu's debut so pleasurable is its easy rhythms, its sly juxtapositions, and its relaxed but funny performances. A generous straight man, Krusiec gives the film emotional heft...."---Slate | |
Okay, so I have to admit, I was thrown for a loop and I don't know if this is temporary or not but what the hell... Hi Lynn fans! Surprise surprise!
So, I just came back from a kickass time at ITASA at U of I and I gotta hand it to those guys - you know how to throw a Barn Dance! And that hay ride, it was spectacularly - circular. HA! Stay tuned for incriminating pictures....
I had a great time getting to know everyone. A big shout out to my Taiwanese brothas and sistas who partied with me. I can't wait to see what you guys do next...until then, zai jian and keep the fires burnin.
Remember, you are truly GREAT.
YEE-HAW,
Michelle
------------------oOo------------------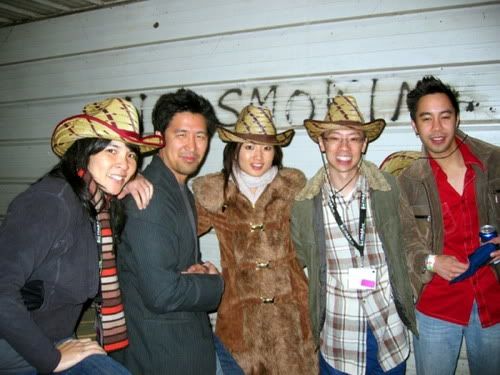 Speakers include from left to right: Karen Lin Producer, Will Tiao Producer/Actor, Michelle Krusiec Actor, HoChie Tsai ITASA founder, Wesley Du Writer/Actor.
Labels: events, messages, photos
25 Comments:
Links to this post: